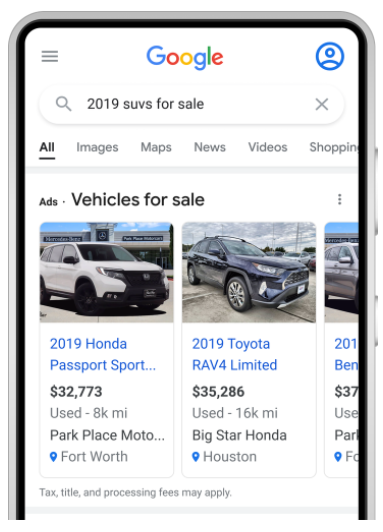 Google has recently launched car ads in the US with plans to roll them out to other countries soon.
Vehicle ads are designed to allow auto advertisers to promote their entire vehicle stock to potential customers just like any other retailer would. The ads include an image of the vehicle along with the make, model, price, miles and dealership name. 
When a user clicks on a vehicle ad they're taken to the vehicle description page on the advertiser's website. From there they can learn more about the vehicle and fill out an enquiry form. This also makes tracking leads and conversions a breeze for advertisers.
Who Can Use The Ads? 
For independent or even chain dealerships the ads provide a massive opportunity. This gives you a chance to stand out from large sites like AutoTrader and even appear above them in search rankings for specific vehicles. 
Google takes location into consideration too so you can stand out to local buyers easier than ever before.

 
How Can You Utilise Them?
89% of all new car buyers researched their vehicle online according to this study. People aren't just researching either, they are looking to learn about a vehicle online and purchase it there too, this is where the new car ads can provide a new avenue. 
Used car prices have never been so high because of supply chain shortages due to the pandemic. Vehicle ads can help advertisers get in front of the right audience.
Just like everywhere else online, car shoppers expect an easy and helpful experience when looking for the right car to buy. This is why it's so important for a car dealer to get in front of the right buyer with the right audience.
If you are looking to use Google Ads to promote your inventory there are a few steps you have to take. You must create a vehicle inventory data feed and connect it to Google Merchant Centre. The feed includes data on makes, models, prices, mileage and condition. 
Because everything is fed through Google's Merchant centre you as an advertiser can track metrics like clicks easily and use this to gauge how effective your campaign has been.  According to a Google announcement "advertisers who complimented their existing Search campaigns with the vehicle ads bata saw a +25% average increase in conversions".


If you are interested but aren't sure where to start get in touch! The ads haven't rolled out in the UK just yet but we can help you get prepared for the rollout and assist in your other marketing efforts.